Some tooling for gallery wire, seven different patterns. Gallery wire is bent into the shape of a gemstone then soldered to make a coronet - claw type setting.
On the tool to the right below the gold strip is inserted from below and is cut using the punch ( center), the button is
depressed then located in a hole and another strike is made, then repeated. The samples below are not from this tool, but made with another.
These tools were made in Melbourne, Australia c1950.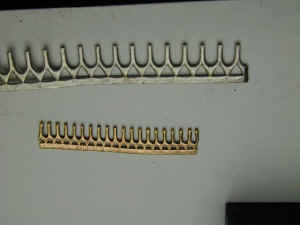 These tools are used to make gold patterns for rings that are then pierced with a drill and the filigree is cut with a jeweller's saw.
The blade tends to follow the thinnest line. These tools were made in Melbourne, Australia before 1900.
The picture to the left below is a sample of the pressing by the tools to the right. Two sides are made in gold
then they are soldered together then hand punched into a die, then a band added to complete the ring.
The tools in the picture to the left first cut out the blank, the cut out the center, then emboss it ready for cutting and filing.
This set is for the making of a square cluster diamond ring, it was made in the 1950's or 60's.