click this link to see a
GALLERY OF TOOLS
I've made or restored
and the links below for more details
Tool Making and Restoration
My aim is to make tools I can use. I generally take my inspiration from some of the magnificent tools made in the mid to late 1800's, when decoration on a tool was there for it own sake, and perhaps to inspire the user. Steel, brass and exotic woods combine to make beautiful tools that are a pleasure to use in my workshop, and hopefully an heirloom for my family to have and to use for many generations.
Dovetailed steel and brass chariot plane with a Walnut wedge - by Peter McBride.
Engraved sides by Nick Karagulidis - Melbourne, Australia.
The next plane was the Skew mouth Chariot, a plane I wanted to use on tenon cheeks. Once I started it, I quickly found it was a very difficult plane to get everything in the right place at the right angle.

Fabricated small scraper plane in brass and steel with a Lightwood knob by Peter McBride
The bullnose chariot, left, was the first dovetailed plane I made. It's something I had wanted to make for many years. I thought it would be a fun project, but wasn't prepared for the additional level of pleasure to be had by using the plane on woodwork projects.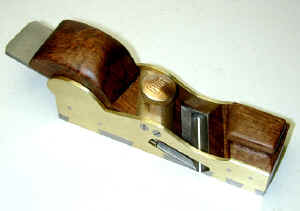 Dovetailed steel and brass skew mouth chariot plane with a Walnut infill and wedge by Peter McBride

Most plane makers don't fabricate using brass, steel and silver solder, but I thought it might suite this next plane I made. A copy of the Stanley # 212 small scraper plane. This plane has a steel base lead soldered onto the bottom, done in the same way as the restoration of these planes below, a smoother and two rebate planes. The soldering of the bases to the planes, and restoration process can be seen here.