Peter McBride Antique and Old Tools
home | jewellery pages | antique and old tools | links | email
A visit to the Bob Lynn Historical Woodworking Trust (inc.) Museum - Ashburton, New Zealand
March 2003
click on the images for a larger picture
Every serious tool collector or user should rush to Ashburton, New Zealand, a small town, about a 1 hours drive south of Christchurch on the South Island of New Zealand. I was told some years ago about the Bob Lynn collection of tools and Ornamental Turning (OT) lathes. I did an internet search and found their website with a link to email Bob Lynn's son-in-law Lindsay Holland, the Archivist for the Trust. ( the tools are held in a Trust, so they cannot be dispersed) I contacted Lindsay and was told that "Bob is now in his late 80's and pretty deaf, but very active and as sharp as a tack and would be pleased to meet you"
I was made most welcome by Bob, and Lindsay.
The Lynn collection of ornamental turning lathes must be seen to be believed...WOW!!!

A Bower Rose Engine lathe (1825), 6 Holtzapffel, 2 Gill, one Evans, and one Davies Ornamental turning Lathe. One Holtzapffel horizontal lapping machine, and more!!
I spent a day with Bob, and Lindsay, met 2 other tool collectors there and had a VERY enjoyable day.
This is a book written and self published by Bob Lynn, I bought it at the museum. It has many pictures of the collection, and some quaint reminisces, and musings by Bob, and some VERY handy hints on traditional woodworking techniques.
Some of the infill planes in the collection. There was also a rare type 3, #3 bench plane by Stanley in one of the glass cabinets. When you get there, look at the wall-O-moulding planes...WOW.
Lindsay took me out the back of the buildings to look at the steam collection...more to see there also.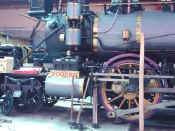 Copyright © Peter McBride 2004