Peter McBride
Antique and Old Tools
home | antique and old tools | links | email
Updated :- Sunday, 07 October 2018
Some of the tools bought at an auction of George Fincham & Sons, Organ Builders. Feb. 2006, when it closed down. (Melbourne, Australia)
George Fincham emigrated to Australia in 1852 from London where his father was an organ builder in Tottenham Court Rd. and George was apprenticed to London organbuilder Henry Bevington in 1842. George Fincham established his business in Melbourne, Victoria in 1862. Some of the tools are marked G. Fincham, and many are marked G. L Collings, ( also his name punch was found in one of the boxes of tools purchased). At the auction I was told by David Fincham, the current owner, that the tools were mostly his grandfather's tools, and they were passed on to him by G. L. Collings.

In an EXTRACT FROM OHTA (Organ Historical Trust of Australia) JOURNAL OCTOBER 1994, pp.11-18, 22-25. a paper delivered at the XVIIth annual OHTA conference on Sunday 25 September 1994

The Fincham way

by John Hargraves

As the firm grew Fincham concentrated his energies on directing the organbuilding side of the business as he was successful in training apprentices capable of eventually running his voicing, pipemaking, office, and sales departments, branches or their own businesses, e.g. Arthur Hobday, Josiah Dodd, Frederick Taylor, Leslie Fincham, Alex Ground, and George Collings.

Ref. www.ohta.org.au/document/articles/hrgraves13.html and www.ohta.org.au/profiles/fincham.html

Click on the images for a larger picture
Three very well cared for dovetailed steel infill planes. A Buck, 245 Tottenham Court Rd. Miter plane (c1838 - 1861) most likely made by Robert Towell, London. A Spiers smoother stamped with G L Collings name on the side of the rear infill ( late 1900's). Kept in this condition by a custom made wooden box, which preserved the fine tapering horn on the handle, and a rebate plane also by Buck, 245 Tottenham Court Rd.(c1838 - 1861)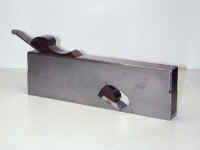 Another very early Mitre Plane, again most likely by Robert Towell. This one marked Richard Nelson, 122 Edgeware Road. (London) 1831 - 1852, pre takeover by George Henry Buck.
A magnificent set of 12 Marples, London pattern octagonal boxwood handled, beveled edge paring chisels.
The name punch of George L. Collings, and an impression stamped on a small bevel gauge pictured below.
A huge 26 inch try square, marked with G L Collings stamp, and a Marples hold fast. ( the #8 Stanley 24inch jointer at the rear is for size comparison)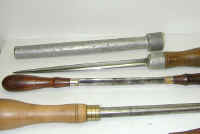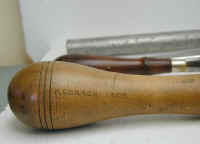 A selection of burnishes and scrapers etc. The burnishing tools were used to form the brass reeds for the organ pipes. Note the rear sheath made in spotted metal, the same as was used for the organ pipes.
Also note the name stamped on the burnishing tool, P Conacher & Co. ( this handle was inexpertly stamped in two other places)
Peter Conacher & Co organ builders, established in 1854 is still trading in West Yorkshire.
More assorted tools, including a user made scraping tool marked G. Fincham. (left front)
A three tiered box of Jennings spur bits for a brace.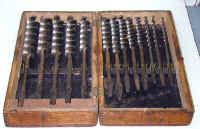 Another boxed set of spur bits by Jennings.
A couple of sets of brace bits, mostly by Mathieson.
A boxed group of mostly Mathieson shell bits for a brace.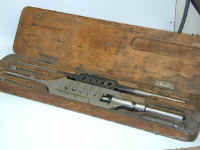 A very early tap and die set, sadly missing the two smallest taps.
Assorted tools...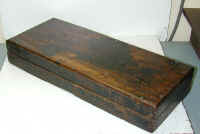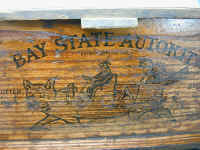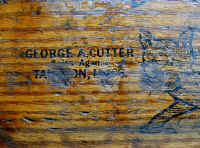 Bay State Autokit, by George A. Cutter, Sole Agent, Taunton Mass. Never seen anything like this before...information on them would be appreciated.
References:
E.N. Matthews, Colonial Organs and Organbuilders, Carlton: Melbourne University Press, 1969
Organ Historical Trust of Australia, www.ohta.org.au/
www.ohta.org.au/profiles/fincham.html
www.ohta.org.au/document/articles/hrgraves13.html
W. L. Goodman, British Planemakers from 1700, 3rd edition.